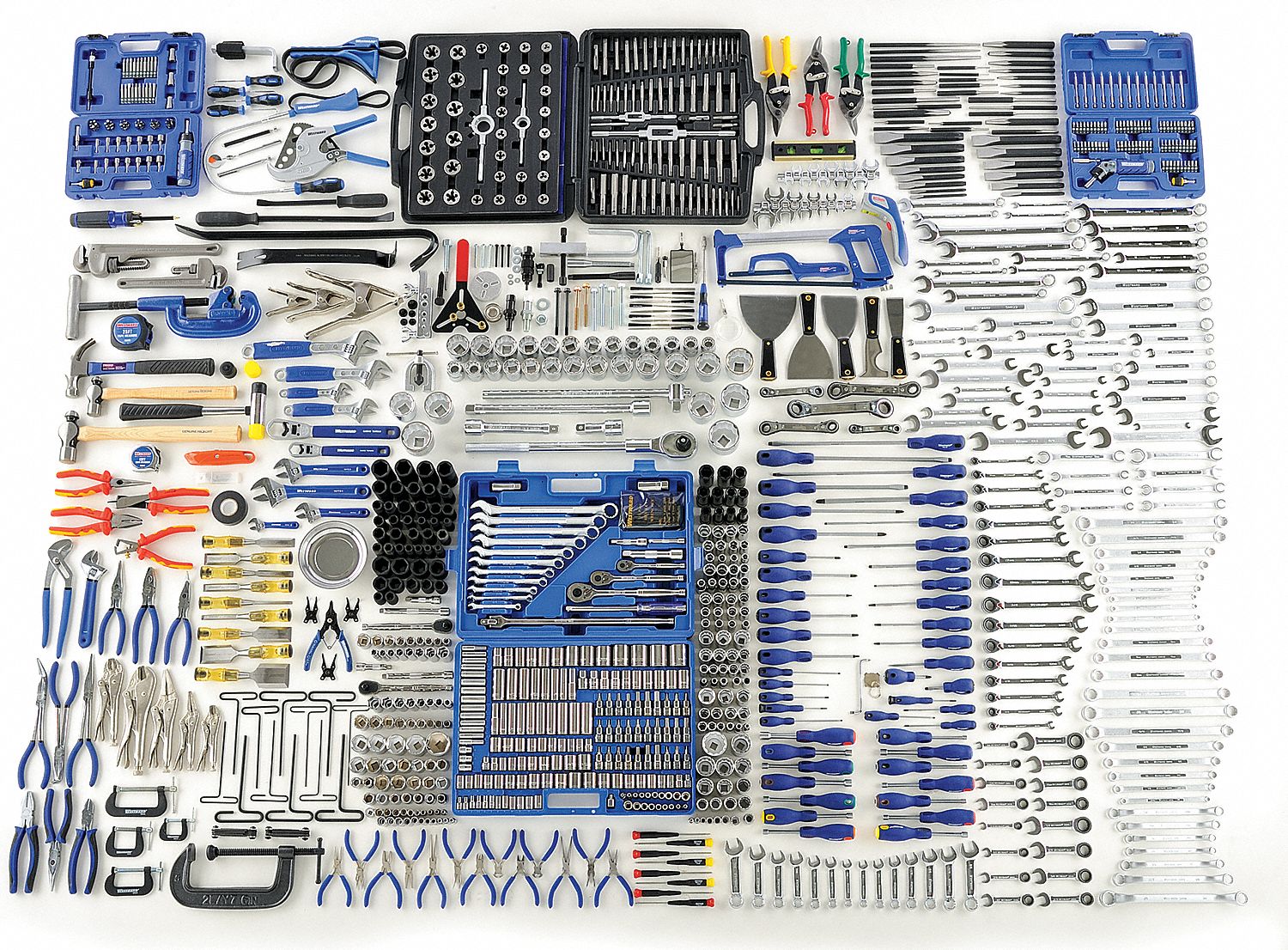 close
close x
images.360.info.textHead1 360° images.360.info.textHead2
Rotate: Use top-to-bottom, side-to-side by use of mouse arrow.
Zoom In: Double click on image.
Zoom Out/Reset: Put photo at full zoom & then double click.
Product Details
SAE and metric. Drive size: 1/4", 3/8", 1/2". Number of pliers: 37. Number of screwdrivers: 57. Number of sockets/accessories: 454. Number of striking tools: 35. Number of wrenches: 156. Number of miscellaneous tools: 520.
Technical Specs
Item

Facility Maintenance Tool Set

Number of Sockets/Accs.

454

Number of Pieces

1259

Drive Size

1/4", 3/8", 1/2"

Standards

ANSI

Pliers Included

8" Linesman, 8" Long Nose, 8" Adjustable, 10" Tongue and Groove, 5" Curved Jaw Locking, 6-1/2" Long Nose Locking, 10" Straight Jaw Locking, 7" Curved Jaw Locking, 9" Long Nose Locking, Precision Plier-Long Nose, Diagonal Cut, End Nose, Bent Nose, And Needle Nose, Safety Insulated Pliers - 8" Combination Pliers, 6" Wire Strippers, 8" Heavy Duty Diagonal Cutting Nippers, 8" Long Nose Pliers, Ergonomic Grip - 8" Long Nose, 8" Linesman, 7" Diagonal Cutter, 4 pc Interchangeable Head Snap Ring Plier, 45 Degree Bent Nose 8", Long Reach - Straight Nose, 45 Degree Bent Nose, 90 Degree Bent Nose, 8 Pc Mini Plier Set, Snap Ring Tool Set-Straight Tip Head-0.045" and 0.06", Tip Head-45 And 90 Degree

Wrenches Included

Combination Wrenches 12 Point SAE-5/16", 3/8", 7/16", 1/2", 9/16", 5/8", 11/16", 3/4", 13/16", 7/8" and 15/16", Metric-7mm, 8mm, 9mm, 10mm, 11mm, 12mm, 13mm, 14mm, 15mm, 16mm, 17mm, 18mm, 19mm, 21mm, 22mm, 24mm and 27mm, Strap Wrench-4" and 12", Box End Wrenches SAE-1/4" x 5/16", 7/8" x 7/16"

SAE or Metric

SAE, Metric

Number of Pliers

39

Miscellaneous Tools Included

Screwdriver Bit Set-2" Power Bits-Hex, Phillips, Pozi, Slotted, Square End And Torx, Hex Bits-SAE-3/32", 1/8", 3/16", 1/4", Metric-3mm, 4mm, 5mm, 6mm, Pozi Bits, Phillips Bits, Torx Bits, Slotted Bits, Square Bits, Magnetic Bit Holder, Plastic Bit Holder, Finder Sleeve, Magnetic Driver, Countersink, Quick Change Chuck And Flex Extension, Clamps-6", Pipe Wrench-10", 12", 14", 18", Magnetic Pickup Tool, Tap and Die Set-4-40, 6-32, 8-32, 10-24, 10-32, 12-24, 1/8-27NPT, 1/4-18NPT, 1/4-20, 1/4-24, 1/4-28, 1/4-32, 5/16-18, 5/16-24, 3/8-16, 3/8-24, 7/16-14, 7/16-20, 1/2-13, 1/2-20, 9/16-12, 9/16-18, 5/8-11, 5/8-18, 3/4-10, 3/4-16, M6X1.0, M8x1.25, M10X1.0, M10X1

Number of Screwdrivers

57

Primary Application

Technician
Number of Wrenches

156

Number of Miscellaneous Tools

332

1/4 In. Drive Sockets/Accs. Included

Standard SAE 6-Point-5/32", 3/16", 7/32", 1/4", 9/32", 5/16", 11/32", 3/8", 7/16" and 1/2", 12 Point-3/16", 7/32", 1/4", 9/32", 5/16", 11/32", 3/8", 7/16" and 1/2", Deep SAE 6-Point-1/4", 9/32", 5/16", 11/32", 3/8", 7/16" and 1/2", Standard Metric 6-Point-4mm, 4.5mm, 5mm, 5.5mm, 6mm, 7mm, 8mm, 9mm, 10mm, 11mm, 12mm and 13mm, Deep Metric 6-Point-6mm, 7mm, 8mm, 9mm, 10mm, 11mm and 12mm, Deep SAE 12 Point - 3/16", 1/4", 5/16", 3/8", 7/16", 1/2", 9/16", Deep Metric 12 Point - 5mm, 5.5mm, 6mm, 7mm, 8mm, 9mm, 10mm, 11mm, 12mm, 13mm, 14mm, Accessories-3" Long Extension Bar, Quick Release Ratchet-5-1/2" Long

Number of Striking Tools

35

1/2 In. Drive Sockets/Accs. Included

Standard SAE 6-Point - 1/2", 9/16", 5/8", 11/16", 3/4", 13/16", 7/8", 15/16", 1", 1-1/16", 1-1/8", 1-3/16", 1-1/4" and 1-1/2", Standard Metric 6-Point - 10mm, 11mm, 12mm, 13mm, 14mm, 15mm, 16mm, 17mm, 18mm and 19mm, Standard SAE 12 Point-1/2", 9/16", 5/8", 11/16", 3/4", 13/16", 7/8", 15/16", 1", 1-1/16", 1-1/8", 1-3/16" and 1-1/4", Deep SAE 12 Point - 1/2", 9/16", 5/8", 11/16", 3/4", 13/16", 7/8", 15/16", 1", 1-1/16", 1-1/8", 1-1/4", and 1-1/2", Standard Metric 12 Point-10mm, 11mm, 12mm, 13mm, 14mm, 15mm, 16mm, 17mm, 18mm and 19mm, Deep SAE Metric 12 Point - 10mm, 11mm, 12mm, 13mm, 14mm, 15mm, 16mm, 17mm, 18mm and 19mm, Accessories-5" Long Extension Bar, Quick Release Ratchet-8-3/4" Long, Flexible Handle Ratchet

3/8 In. Drive Sockets/Accs. Included

Standard SAE 6-Point-5/16", 3/8", 7/16", 1/2", 9/16", 5/8", 11/16", 3/4", 13/16" and 7/8", 12 Point-5/16", 3/8", 7/16", 1/2", 9/16", 5/8", 11/16", 3/4", 13/16" and 7/8", Deep SAE 6-Point-3/8", 7/16", 1/2", 9/16", 5/8", 11/16", 3/4" and 13/16", Deep 12 Point-3/8", 7/16", 1/2", 9/16", 5/8", 11/16", 3/4" and 13/16", Standard Metric 6-Point-9mm,10mm,11mm,12mm,13mm,14mm,15mm,16mm,17mm,18mm,19mm,20mm,21mm and 22mm, 12 Point-10mm, 11mm, 12mm, 13mm, 14mm, 15mm, 16mm, 17mm, 18mm and 19mm, Deep Metric 6-Point-10mm, 11mm, 12mm, 13mm, 14mm, 15mm, 17mm, 19mm and 22mm, Deep Metric 12 Point-10mm, 11mm, 12mm, 13mm, 14mm, 15mm, 16mm, 17mm, 18mm and 19mm, Spark Plug Sockets 5/8" and 3/16", Slotted Bit Sockets-3/16", 1/4" and 9/32", Phillips Bit Sockets-#1, #2, And #3, Torx-T10, T15, T20, T25, T27, T30, T40, T45, T50 And T55, Hex Bit Sockets SAE-1/8", 3/16", 1/4", 5/32", 7/32", 5/16" and 3/8", Metric-4mm, 5mm, 6mm, 7mm, 8mm, 9mm and 10mm, Accessories-Spinner Handle, 3" and 6" Long Extension Bar, Quick Release Ratchet-7-3/4" Long

3/4 In. Drive Sockets/Accs. Included

Standard SAE 12 Point - 7/8", 15/16", 1", 1-1/16", 1-1/8", 1-3/16", 1-1/4", 1-5/16", 1-3/8", 1-7/16", 1-1/2", 1-5/8", 1-3/4", 1-13/16", 1-7/8", 2", Standard Metric 12 Point - 19mm, 21mm, 22mm, 23mm, 24mm, 26mm, 27mm, 29mm, 30mm, 32mm, 35mm, 36mm, 38mm, 41mm, 46mm, 50mm

Screwdrivers Included

Slotted, 1/8" x 3", 4", 3/16" x 4", 8", 1/4" x 1-1/2", 4", 6", 12", 5/16" x 8", 12", Phillips, #0 x 3", #1 x 3", #2 x 1-1/2", 4", 8", #3 x 6", #4 x 8", Torx(R), T10, T15, T20, T25, T30 x 4", Square, S1 x 4", S2 x 4", Precision, 3/32" x 2", Phillips, #00 x 2"

Number of Consumable Parts

0

Recommended Tool Boxes

2HUH9
Compliance and Restrictions